Schedule & Programme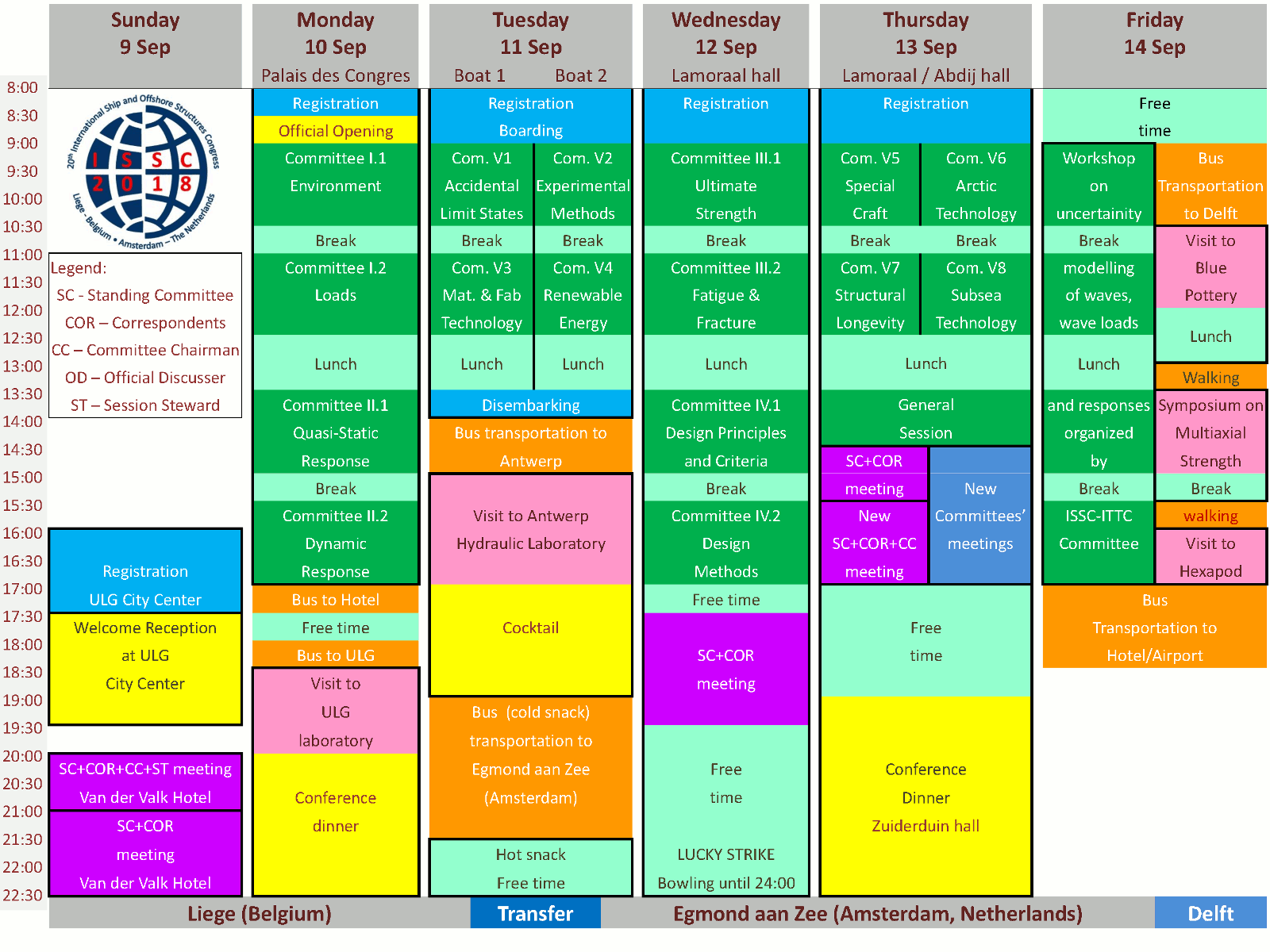 The conference will take place in two countries: Belgium & The Netherlands.
In the afternoon a reception and pre-registration will be organized in the beautiful ancient building of the ULG.
A full day of sessions, they will be held in the Palais de Congres. At the end of the day we all go by bus to visit the ULG labs, 45 minutes. After that a splendid conference dinner & musical event will be held in the Chateau Colonster. Transport will be arranged by buses.
Early rising! We all check in at 08.00 o'clock on 2 boats (also the accompanying persons) next to the Palais de Congres. They will take us up the river towards Antwerp."
On board the sessions of 4 specialist committees will be organised. Lunch will be on board for members and accompanying persons
We will disembark in Genk where buses are ready to bring us to Antwerp to visit
Flanders Hydraulic Research. While visiting this lab we will have drinks & food.
At 19.00 hrs the buses departure to The Netherlands, to Egmond aan Zee (Amsterdam). We have an in-house conference. In Hotel Zuiderduin all rooms have either double or twin beds and all hotel rooms have a shower or bath. All rooms have internet connection. The hotel restaurant is prepared to accommodate special dietary requests. Other facilities in the hotel are indoor pool, sauna, squash court, beauty parlour, hairdresser, fitness centre, bowling and bistro pub.
Arrival between 21.00 – 22.00 hours. Egmond aan Zee is a sweet small village near the sea on a half hour driving from Amsterdam. From the hotel to the beach is a 4 minutes walk.
A full day of sessions. No dinner arranged. Egmond aan Zee has plenty of nice and cosy restaurants.
You are welcome in the Bowling of Hotel Zuiderduin from 22.00 – 24.00 hours, free bowling, drinks & snacks will be served.
Sessions in the morning. After a lunch a general session will be held with the announcement of the new committees for ISSC2021. The afternoon from 17:00 is free time. Conference dinner will start at 19.00 hrs. During this event the new location of the next conference in 2021 will be announced. A party is organized from 22.00 – 24.00 hour. End of the conference.

OPTIONAL For Friday we organize a tour by bus (along some famous Dutch windmills) to Delft to participate in a max 2 hours symposium including visiting the Hexapod in the lab of Delft University of Technology. We will also visit the famous Delft Blue Pottery and have a walk in the very cosy & old city of Delft. Extra: € 75 per person, lunch & reception included